I've been making this recipe for my family for years.  These pancakes are light and fluffy and the hardest thing about making them is being able to make them fast enough for eager little mouths. I love serving them with my Raspberry compote – which is a really easy soft jam that is also really good as a sponge cake filler, or spread onto your morning toast or crumpets.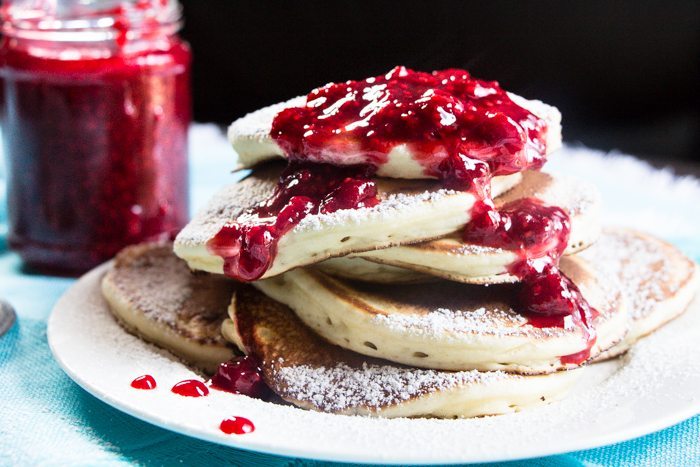 I like these with a little jam , but they are delicious with honey too. Go the full monty and make my Raspberry compote, slash on some cream and enjoy the moment.
Prep time:
Cook time:
Total time: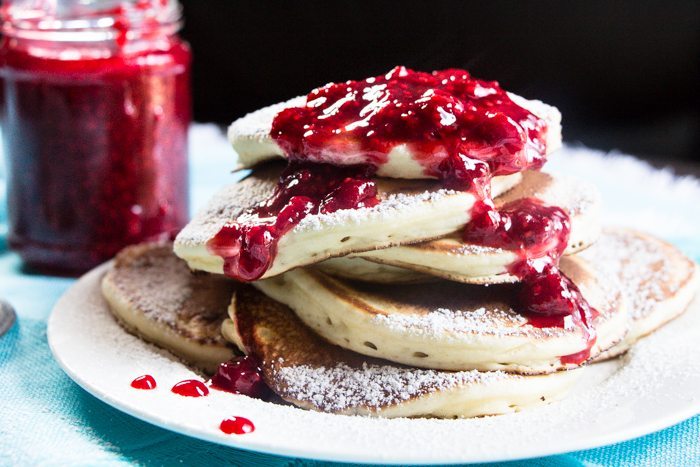 The best ever pancakes to make for your family this weekend
Ingredients
I cup self raising flour
¼ cup caster sugar
¼ tspn bicarbonate soda
1 egg
¼ tspn vanilla extract
¾ cups milk
1 tspn white vinegar
Butter
Method
Put the flour, sugar and bicarbonate soda in a bowl and mix to combine.
In another bowl, mix together the remaining ingredients.
Make a well in the centre of the flour mixture and add the wet mixture. Stir to combine then whisk until it forms a smooth batter.
Heat a flat non stick frypan over medium heat, add a teaspoon of butter. Allow the butter to melt and coat the bottom of the pan.
Spoon dessert spoonfuls of pancake batter into the pan. Once bubbles form on the top, flip over with an egg flip and cook for a minute on the other side.
Repeat for the rest of the batter, adding a little more butter if they start sticking.
Makes about 15
Serve with your choice of condiment
I've served mine with raspberry compote (get the recipe here) and a dusting of icing sugar.