I've just gotten back from Karratha where I held a Cooking Workshop at their Youth Shed.  It was so much fun! The theme was Christmas cooking, and living in the Northwest I don't think we need to stick to tradition and cook a roast dinner.  It's so hot this time of the year, the last thing you need on Christmas day is to have the oven on for hours, heating up the house.  Christmas day should be enjoyable, relaxed, and a day for spending time with family and friends.  I love cooking, but the last thing I want to do on Christmas day is spend the entire day getting overheated in the kitchen. But it is Christmas and cooking for you family this time of the year should be special.  So I decided to come up with some recipes that use luxurious special 'Christmas' ingredients, that are fast and easy to make.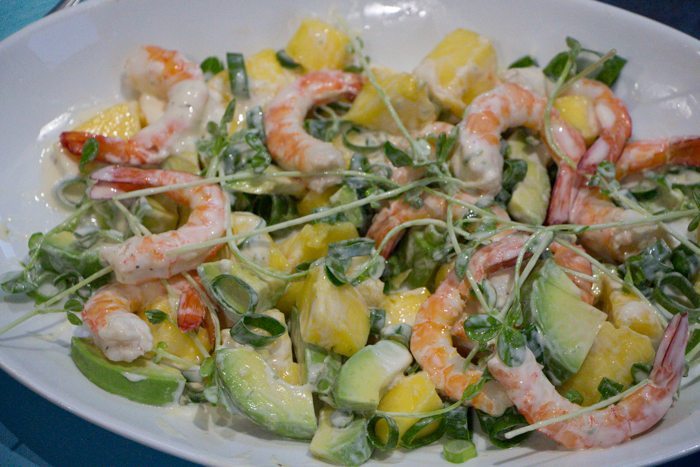 This time of the year we have beautiful mangoes and avocados.  They scream 'summer' to me, and the Christmas table usually features  a platter of prawns. So why not combine them all?  With a creamy lime mayonnaise with a kick of Tabasco, it's a surefire winner. Best of all – no cooking required! On the table in 10 minutes! Click here for my Prawn,Mango and Avocado Salad.
I also love to take an ingredient that can be more expensive than your everyday ingredients, and make a dish that stretches it so everyone can afford to have it on their Christmas table.  Smoked Salmon is so delcious, but to buy enough so everyone your invite over can enjoy it can be daunting! My trick to stretch any ingredient is to add pasta.  I love pasta dishes, and my creamy Smoked Salmon spaghetti with Roasted Capsicum is divine!  The participants at the workshop could not believe how all the kids ate it, asking for more.  These were children that had never eaten smoked salmon before.  They loved it.  Think of all that good Omega 3! Click here for the recipe for my Creamy Smoked Salmon Spaghetti
I love using the barbecue on Christmas day.  We are so lucky to live in a place where we can sit outside and enjoy our Australian sunny weather.  I know a barbecue may not sound as special, but if you take the time to marinade your meat in something exciting it makes the world of difference!  I love cooking lamb on the barbecue.  It is so easy to cook, succulent and very forgiving to those who worry about 'overcooking' their meat.  I love Middle Eastern flavours and I use a marinade that includes Pomegranate Molasses to take these lamb cutlets to another level.  It's sweet, sticky and quite tart and adds a moreish flavour to lamb.  It's hard to find up here where I live, but you can buy it on line.  Alternatively use a mix of cranberry sauce and lime juice for a similar flavour.  Serve it with my Jewelled Couscous Salad and it is a visual feast of colour.  My recipe uses the larger Israeli couscous but you can substitute normal couscous to make it even easier. Click here for the recipe for my Pomegranate Lamb with Jewelled Couscous
Last of all, I had all the kids up to help me make my Black Forrest Eton Mess.  They had so much fun crushing up the meringues, stirring the chocolate ganache and whipping the cream.  Then they all helped assemble this incredibly easy, but heavenly dessert.  It is so easy and a great one to make in the kitchen with the kids.  You could use a mixture of whatever you like in your 'Mess'.  The best part is that is meant to look like a mess and is ready within 15 minutes. Click here for the recipe for my Black Forrest Eton Mess.
I had a ball making these four dishes at the workshop.  It was a pleasure to feed everyone who all had a serve each of everything that was made.  I hope you give one of these recipes a try this Christmas.
They are super fast and easy, yet still incredibly special. Thanks to everyone at the Youth Shed for having me! See you next time!